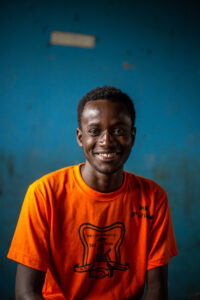 Frank aged 19 is happily enjoying school after all the hardships he went through. His mother passed on just after giving birth to him (the grandfather tells the story). Frank didn't see his mother, he stayed in the Health Centre for a few months until the nurses handed him over to his grandfather. The mother passed on before telling who the father of the child was, so, Frank doesn't know his father to date. Frank's grand father's job is to graze cattle for other people.
Frank started school 2-3 years late because His grandfather was still finding school fees, After starting school, Frank used to be absent most of the school days because his grandfather grazed cows with him to get money for school fees.
Frank's grandfather tried for about a year but failed and explained what he was going through with Frank and when John heard the story,  He accepted to receive Frank at Hope and care. 
Frank has been happily sponsored for the past 11 years and he is completing his Uganda Certificate of Education (UCE) this year he has always been one of the best performers in school!
Frank says that he is ready to be in school and to remain focused to achieve his goal of becoming an accountant.