A Big thank you to our partners that have contributed generously . We have fed 233 familes which is beyond our set goal of 200 families.We have also provided seeds to a group of 33 widows.
The food basket project is now part of our program and we will continue to feed families in need.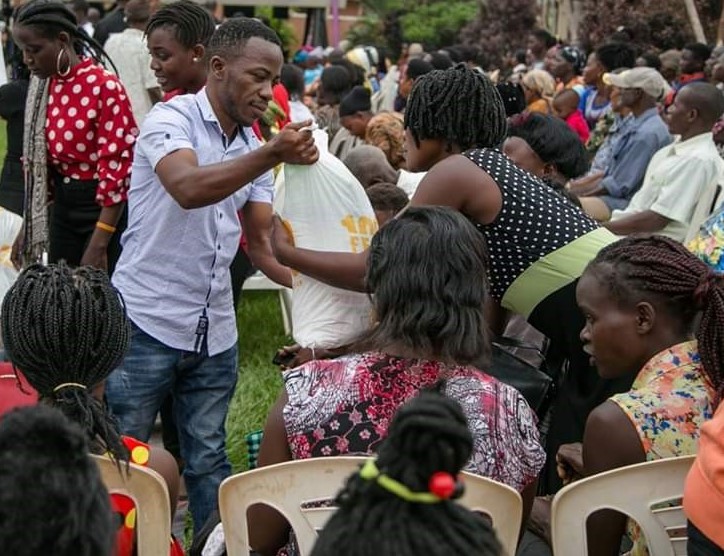 The Government of Uganda in solidarity with the World Health Organization has  directed Closure of all Schools, Churches, Universities,Bars, Concerts, Monthly Markets, burial of those who die of the virus by state officials, and a ban on public gatherings for a month. 
Suspended all incoming and outbound commercial passenger flights  for at least 30 days. Prohibited all incoming passengers into the country by air, water or road and no human movement will be allowed into or out of the country.The ban, also applies to Ugandan citizens trying to return home.
Banned all public and private means of transport save for cargo. Selling of all no food stuff in food stuff markets has also been banned and  shopping Malls, arcades and shops/stores not selling food items closed.
People have been encouraged to stay home, maintain social distance of at least 4 meters in addition to washing hands with soap and water for at least 20 seconds, those with flue and cough have been encouraged to stay home and contact ministry of health staff for help, people have also been encouraged to report any suspected cases,ministry has also called upon all those who traveled within the last weeks to voluntary go to any health facility for testing, all aimed curbing the spread of COVID 19.
As a result of the measures that the government has taken, peoples' livelihood has been heavily affected. Most community members cannot go to work since most of the businesses were suspended except a few like farming. 
Prices for household items more so food stuff have been hiked i.e a 500g sacket of salt that used to go for UGX:1,000 is now at 4,000, a kilogram of beans that was at 3,000 now goes for 5,500-6500, while sugar that was going for 3500 is now at 6000,  among others.
Citizens are consuming their seeds as food yet its a season for planting . Public means of transport that favored the traders to transport their goods from towns like Mubende, Mityana and Kampala to Kalonga at low costs is no more making situation worse.
Women are giving birth on roadsides with no help while on their way to hospitals, babies are dying.
Due to failure to earn a living to put food on table a group of 7 youth left Kampala for Kisoro (their village) on foot and arrived today travelling more than 400km only relying on water, many groups of people are walking back to their villages because hunger will kill them from the city. 
The community is worried about Health care services because only  few nurses  who stay around the  health center are working  and loaded with a lot of work yet they are also in fear for having no equipment to safe guard them from the virus and the samples of covid 19 taken from patients are sent to Kampala (120km away) where the testing hubs are.
Many people can not get to the hospital and some  have to walk for the whole day.
Factories have laid off over 50% of workers majority being causal laborers relying on food to mouth, Some markets like hoima central market out of over 400 vendors only 39 as of today were willing to Camp/sleep at the market.
Generally, life has become hard for both the haves and have nots but hitting the have nots more. The have nots include the most vulnerable community members in the rural areas like kalonga comprised of women, widows, single mothers, school drop outs, orphans, causal laborers majority of whom rely on food to mouth earning, they hardly have investments nor savings because they have to work every day to have a living and whatever they get is spent all at the end of the day, hence have to wake up the following day and work hard again to put food on the table.
Your Giving will help us protect the  widows, single mothers, orphans, elderly and the most vulnerable families in our community KALONGA by providing a food basket and seeds for each family.
1. Provide a food basket and Soap for 200 households of 5
Foodbasket for a month:
10Kgs corn flour
10Kgs Beans
10Kgs rice
1Kg salt
2kgs Sugar
3Bars of Soap
2. Provide Cereal and Vegetable seeds  for 200 families
Thank you for stopping by, Help us protect the  widows, single mothers, orphans, elderly and the most vulnerable families in our community KALONGA by providing food, Cereal and Vegetable Seeds.
Over 280,000 meals distributed in 2020
We are licensed to give hope
#Love at all costs
#Hope unlimited